Events
Jan
20
Sun
January Citywide SOUP

@ Detroit SOUP
Jan 20 @ 5:00 pm – 8:00 pm
Learn about creative projects happening in Detroit.
Vote on which project to fund with the money raised from the dinner.
SOUP is:
a collaborative situation
a public dinner
a platform for connection
a theatrical environment
a democratic experiment in micro-funding
a relational hub bringing together various creative communities
a forum for critical but accessible discussion
an opportunity to support creative people in Detroit.
——-
DETAILS
Pay suggested donation of $10.
Doors & Build Bazaar at 5p
Proposals at 6p
Dinner around 7p
Winners announced before 8p
——-
SUBMIT AN IDEA
Have an idea?
Proposals DUE: Sunday, January 13 by 11:59p
Find out more or submit at www.detroitsoup.com/submit
——-
POTLUCK
SOUP is a potluck style dinner. Bring some food to pass if you would like – your donations are greatly appreciated. It doesn't have to be crazy, but consider that there are 100-150 people who come to the dinner. Anything from soup, salad, dessert, to your favorite meal. Remember that you get 60 seconds to share about ANYTHING you are working on in the city.
Let us know at info@detroitsoup.com
Jan
22
Tue
KIP:D Information Session

@ TechTown
Jan 22 @ 5:00 pm
The Kresge Foundation invites community-based nonprofits across Detroit to apply for a share of $1.5 million for projects that engage residents in revitalization.
The fifth annual round of Kresge Innovative Projects: Detroit will award grants of up to $35,000 for planning and up to $150,000 for the implementation of projects that reflect resident priorities to improve the quality of life in Detroit's neighborhoods. (Grant guidelines can be found here in English. Application instructions are here in English. Additional languages versions are linked below.)
Since 2015, the initiative has supported the creation of an agricultural greenway and other green uses, the conversion of unused second-floor commercial spaces into residences, and it has brought and community organizations together for collaborations in parks.  "We created this initiative because we know community-based groups and organizations across the city share residents' desire for a better quality of life but need resources and technical support to turn their ideas into reality," says Wendy Lewis Jackson, Kresge Detroit Program managing director.
Kresge Innovative Projects: Detroit (KIP:D) has fostered more than 70 planning and implementation projects to date. Those projects have included the renovation of vacant buildings into a variety of productive uses from laundromats and coffee houses to community art spaces and retail spaces. (Learn more about KIP:D grantees named in 2015, 2016, 2017 and 2018.)
"The outpouring of great, transformative ideas has been continually gratifying." Jackson says.
Kresge granted $5 million during the initial three-year pilot phase of KIP:D. Last year, the foundation recommitted to an additional three years and $6 million. The foundation is now making $1.5 million annually in KIP:D grants to organizations and providing $500,000 a year to provide grantees with technical assistance to facilitate a network of shared learning and mutual support. Kresge is partnering with Michigan Community Resources provide that support to KIP:D grantees.
As part of the outreach to potential applicants, the Kresge Detroit program has scheduled information sessions to provide more information about the application process:
Thursday, Jan. 17, at 5 p.m. Marygrove College – Main Dining Hall in the Madame Cadillac Building, 8425 W. McNichols.
Tuesday, Jan. 22, at 5 p.m. TechTown Detroit, 440 Burroughs.
Wednesday, Jan. 23, at 2 p.m. Gleaners Community Food Bank, 2131 Beaufait.
Michigan Community Resources is also offering open office hours to provide individualized application assistance. Please see below for dates and times for these office hours. Please contact Amber Umscheid at aumscheid@mi-community.org or 313-949-7902 with any questions about open office hours:
Thursday, Jan. 24, from 3-7 p.m. People's Community Church, 8601 Woodward Ave.
Wednesday, Jan. 30, from 2-6 p.m. Mexicantown Latino Cultural Center, 2835 Bagley.
Monday, Feb. 4, from 12-4 p.m. Gleaners, 2131 Beaufait.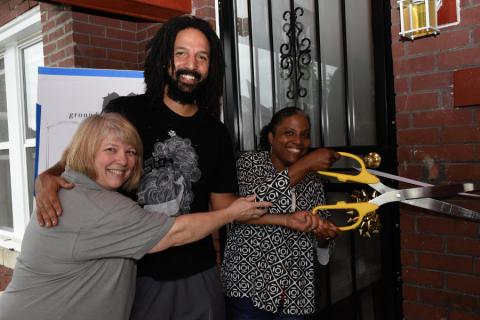 Photo by Montez Miller for The Kresge Foundation.
Read KIP:D application guidelines and FAQs in English.
Read KIP:D application guidelines and FAQs in Spanish.
Read KIP:D application guidelines and FAQs in Arabic.
Read KIP:D application guidelines in Bangla. (Check back later for FAQs in Bangla.)
Read guide to applying for KIP:D in Kresge's online FLUXX system.
Go to the online FLUXX system.
Detroit Future City Working With Lots Information Session

@ Detroit Future City Implementation Office
Jan 22 @ 5:30 pm – 7:30 pm
Detroit Future City's Working With Lots Program is back!!!
This program seeks to attract community groups, businesses, faith-based institutions, or non-profits that are interested in turning vacant land into productive landscapes. During this information session, you will learn more about the program, the application process, eligibility requirements, award amounts, and much more. Please join us for this information session as we kick off our 4th year of this program. REFRESHMENTS will be provided!!!
For more information please feel free to call our office at 313.259.4407.