Since 2015, Michigan Community Resources has celebrated women community leaders through The Power of One Dedicated Woman, our annual awards honoring unsung women changing Detroit neighborhoods.
This year, we will continue to bring attention to the stories of women leaders in Detroit and ways you can support them through virtual and in-person engagement opportunities.
Alongside our partners and awards sponsors, we will offer revised award benefits to deepen our support of honorees by providing them with valuable tools and resources to support their work.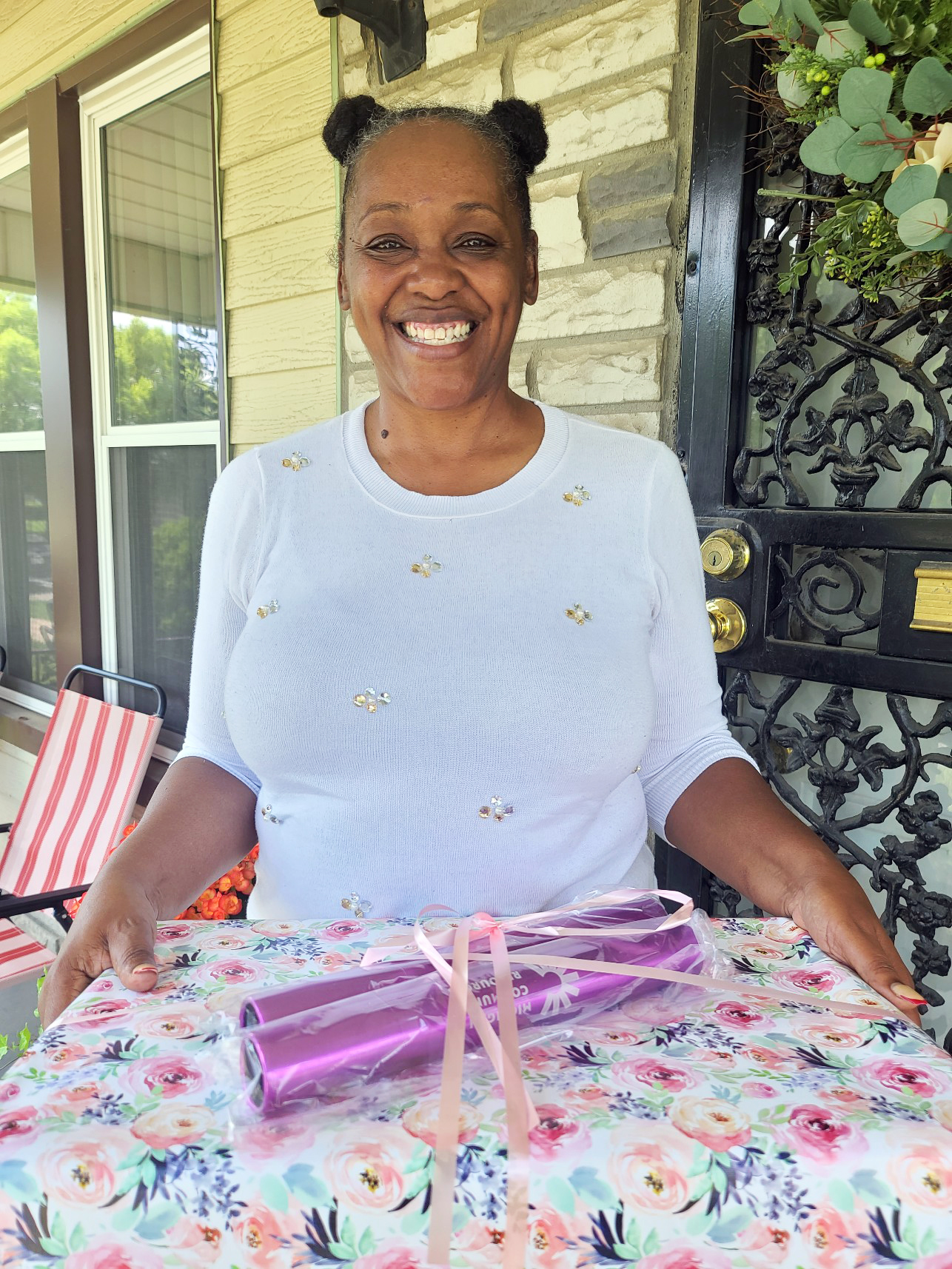 2021 honoree Rhonda Theus receives her award prizes sponsored by JP Morgan Chase

This award is for all women: cisgender (women who were assigned female at birth), transgender (women who were assigned male at birth), and nonbinary people who are comfortable in a space that centers the experiences of women. Recipients will be selected based on the following criteria:
Identifies with above description
Over age 18
Resident of the city of Detroit
Shares her time, talent, and treasure to improve her Detroit community
Her efforts have gone unsung (largely unrecognized by mainstream media, the public, and through traditional awards)
Open to receiving no-cost support services and resources from MCR and our partners to support her work in the community, along with other honoree benefits
It is free to nominate and anyone may submit a nomination.
NOMINATIONS FOR 2022 AWARDS ARE NOW CLOSED.
Winners will be announced late summer 2022.

RELEASE: Detroit women awarded for community service during pandemic
Michigan Community Resources honors six women during virtual awards event on August 24, 2021



Yvonne Gibbs
Claudia Enriquez
Theresa Landrum
Jasmine Mahone
Joyce Moore
Samoy Smith
Sandra White
Stevie Baka
Sonja Hill
Latisha Johnson
Shiva Shahmir
Betty Varner
Dawn Wilson-Clark
Barbara Martin
Karen Knox
Rachel Ullah
Star Roland
Stephanie Harbin
Tenai Leali
Aleasa M. Peatross-Smith
Dell Stubblefield
Deysi Martinez
Mary Jo Smith
Sandra Pickens
Sonia Renia Brown
Barbara Matney
Charlotte Blackwell
Denise Kennedy
Elois Moore
Marissa Mewitz
Michelle Jackson
Barbara Harding
Jackie Perkins
Lenora Hall
Phillis Judkins
Shirley Rankin
Jacqueline Conley